Guernsey carpet beetle larva Anthrenus sarnicus
Full grown larva
Size: 0.5mm when first hatched to 5mm full grown

Shape: Oval

Colour: Cream with brown bands of hair

Antennae: Not visible

Distinguishing features: Hairy, banded appearance with brush of darker hairs at the rear end.
Empty cast skins or moults are often found, particularly on textiles.

Very similar to the larvae of Anthrenus verbasci and they are very difficult to tell apart.

Larvae are pests of: Wool, fur, feathers, animal glue.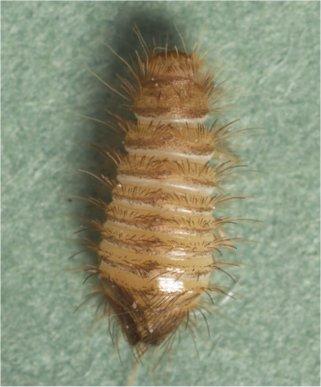 Guernsey carpet beetle larva Anthrenus sarnicus